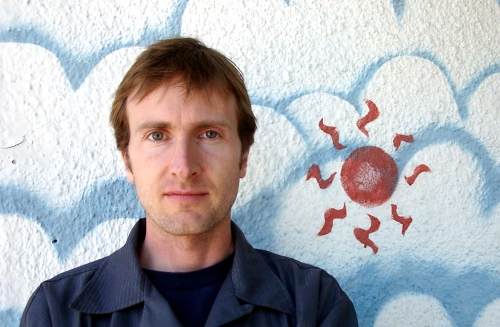 Michael Dale is a composer-improviser and multi-instrumentalist based in Sacramento, California. He studied performance and composition at California State University, Sacramento, receiving his B.M. degree in 2000. At this time his primary teachers were: Stephen Blumberg and Leo Eylar, composition; Deborah Pittman, clarinet; and Lorna Peters and Kirsten Smith, piano. He also studied composition in summer courses and masterclasses with: Andrew Imbrie, James Dillon, Chen Yi, George Tsontakis, David Tcimpidis, and Bright Sheng. His compositions of this period show influence of the minimalists, and of composers such as Stravinsky, Ligeti, Copland, and Andriessen. At this time he also began performing with groups such as the legendary Sacramento jazz band Dutch Falconi and His Twisted Orchestra.
In the early 2000s his compositional style shifted to revolve around what he calls comprovisation, an exploration of varying degrees of interaction between compositional structure and improvisation techniques. He worked with the free improvisation group Alchemy Duo, the new music ensemble Sacramento Experimental Music Group (SEM-G), and the rock bands Naresh and Steve Taylor Band. He also worked as an accompanist/music director on several musical theater productions at UC Davis and CSU Sacramento.
In 2006, he moved to the Oakland-East Bay area and began graduate studies at the renowned Mills College music department. While there, he studied composition, improvisation, piano and woodwinds with such luminaries as Roscoe Mitchell (Art Ensemble of Chicago), Fred Frith (Henry Cow, John Zorn's Naked City, and composer for the films Rivers and Tides and Touch the Sound), Chris Brown (Room, the HUB), Alvin Curran (Musica Elettronica Viva), Steve Adams (ROVA), Matthew Goodheart (Zen Widow), John Bischoff (the HUB), and David Bernstein (much-respected John Cage scholar). At Mills, his work continued to explore the continuum of music-making methodologies spanning from through-composition to free improvisation, and he received his M.A. degree in composition in May 2008. Read Michael's thesis here.
During this period, he also completed a score for the short film Milo's Wheels by Anders Osterballe, and a commission for chamber orchestra entitled it is past midnight, for the Sacramento-based group Orchestra 21. He also co-founded the free jazz groups Death of the Cool, Angelicals, and Earth Blind.
Michael has an active performance schedule in many different musical styles, both as a pianist and as woodwind specialist. Recently he has been featured on the recordings Harmony of East and West: The Spiritual Music of G.I. Gurdjieff, and Perseverance by the free-jazz group Sound Immersion. Michael teaches MIDI, Pro Tools, and Music Theory at Folsom Lake College, and has also recently joined the teaching roster of Sac Prep Music Academy, where he maintains a studio of private piano and woodwind students. He is available for lessons, performance engagements, composition commissions, and adjudication.